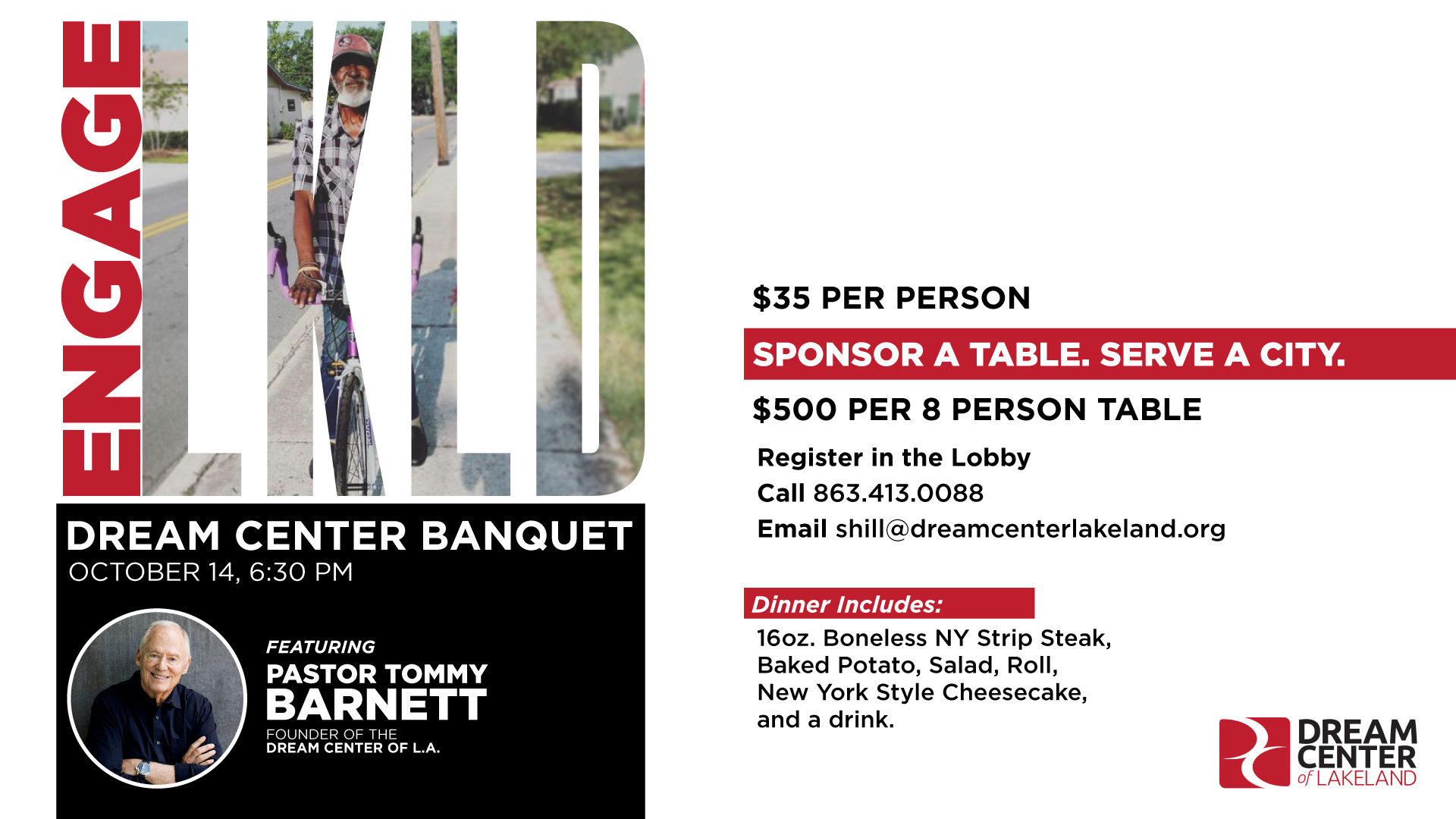 Events at Victory Church
Dream Center "Engage Lakeland" Banquet
One of our city's best-kept secrets, the Dream Center of Lakeland, which has been in operation since 2001, is a non-profit community center that is dedicated to bringing hope to our neighbors in need through service, resources, and education. Through mentoring programs for children and adults, numerous city-wide service projects, food and resource distribution, neighborhood meals, and much more, the Dream Center team works diligently to serve Lakeland's most vulnerable populations.
We are asking individuals and business people of Lakeland to attend, and even consider sponsoring a table at the upcoming "Engage Lakeland" Banquet, Thursday, October 14, 2021
6:30pm - 8:00pm, to help us raise needed funds for this critical work.
The evening will be filled with inspiring stories of life-changing transformations, and will feature guest speaker Tommy Barnett, the founder of the Dream Center in Los Angeles.
Your support of the Dream Center is a significant investment in our city, and you can be sure it will go a long way.
23,000+ volunteer hours in our community each year.
4,000+ lbs of food distributed weekly.
500+ kids, teens, and adults assisted weekly.
Food, clothing, household items, and valuable educational resources are provided to those in need.
We currently work with over 50 community partners.
Individual tickets are only $35, but we would love for everyone to consider sponsoring a table of 8 people for just $500, and inviting other local business leaders in your circle of influence.
Things to consider:
Reach out to those who are unaware of the Dream Center or who may be looking for the right outlet for involvement.
Our goal for this event is $365,000, which is $4,000 per table.
There will not be a "hard-sale" approach, but rather an appeal to the compassion and values of leaders in attendance.
Dinner will include:
16oz. Boneless NY Strip Steak, Baked Potato, Salad, Roll, New York Style Cheesecake, and a drink.
To register:
Date
Thursday, October 14, 2021
6:30pm - 8:00pm
Price
$35 Individual, $500 to sponsor a table of 8
Where
Family Life Center at Victory's North Campus
Address
1401 Griffin Road,
Lakeland, FL 33810