VictoryLife
Classes & Support Groups
Victory offers a wide range of Classes and Support Groups covering practical life issues and spiritual growth. Classes meet on Sundays, Wednesdays, and throughout the week, at our North Lakeland Campus, providing opportunities to build community, pray, serve, and fellowship.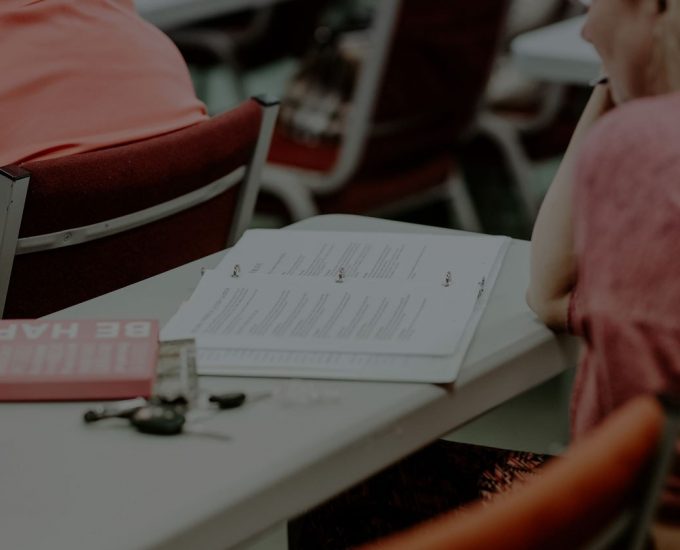 Winter Classes
January 11 - April 12, 2023
Various classes begin at a later date, please review the start date below for each class.
_____________________

Bible Study & Prayer Groups
Women's Bible Studies

Tuesdays at 9 AM - Women of the Word
NEW! STUDY: Into the Light by Mary DeMuth
Chapel | Carla Bryan & Women's Ministry Team, Study Guide $5
We all experience hurt and trauma, but how do we respond when someone tells us their story of pain? How do we heal from our past to help others heal? How do we locate, and build, safe spaces? In her book, Into the Light, Mary DeMuth offers women a biblical approach to healing through stories in Scripture. This seven-session study will help you learn how to heal from past hurts, understand empathy, and deepen your relationships with God, so you can help others heal.
_____________________
Thursdays at 9:30 AM - Vessels of the Word: Women in the Bible
Family Life Center - Café, Jan Mingee & Joy Biggers
In today's world, we are not only dealing with complex personal matters, but also with circumstances in our nation that may cause us to be anxious and troubled. These circumstances call for a more profound knowledge of the Word of God. This personal, in-depth knowledge will build our faith and ability to combat life's storms. Our mind is often the battlefield, but the battle is the Lord's! We hope you will join us as we study together.
_____________________
Men's Bible Study
WEDNESDAY 6:30 PM – HONORBOUND: Men's Bible Study
Family Life Center, Room 116, Men's Leadership Team
In HONORBOUND, you will find fellowship, new friends, support, and encouragement. You will also find men you can rely on for godly counsel, who have experienced the difficult challenges you may be going through, and a group of men who will pray with you. Opportunities also exist to join other men for many local events and outreaches in the community. 

_____________________
Prayer Groups
Men's Prayer - Tuesdays, 7 AM | Sanctuary – Pastor Glenn Procopio

Women's Intercessory Prayer - Wednesdays, 10 AM | Hospitality Suite – Ruth Heiple

Praying Mothers – Wednesdays, 5 PM | Prayer Room – Carla Bryan
Heal Our Land – Sundays, 4:30 PM, Prayer
Meets only when there is a Sunday night service
_____________________
Wednesday Electives @ 6:30 PM
NEW! Living as a Christian in a Post-Christian America
Mezzanine 1 / Robert Suarez

In light of recent culture wars, and the rising number of Americans identifying as non-religious in recent Pew and Barna studies, the United States has shifted toward secularity. It is fundamentally rejecting Christianity as its dominant worldview. What will a post-Christian America look like? How do people insulate themselves enough to survive the influences and societal pressure of living in a highly secular context, while balancing their witness in a healthy and contextualized way? What options do churches have moving forward in a post-Christian setting? This eight-week course will discuss these questions in light of various topics: secularism, atheism, pluralism, dystopia, totalitarianism, Marxism, Critical Race Theory (CRT), Christian nationalism, persecution, apologetics, and missiology.
_____________________

NEW! How Good Is Enough? By Andy Stanley
Mezzanine 2 / David Ott

Many of us want to believe that our family and friends who have not confessed Christ will be accepted into heaven because they are basically "good people." In How Good is Good Enough, Andy Stanley shatters this false belief by reminding us that heaven is not filled with good people, but people who have received God's grace. This powerful teaching on grace will bring you closer to God and help you introduce family and friends to the heart of the Christian faith.
_____________________

NEW! WHAT's NEXT by Chris Hodges
Mezzanine 3 | Craig Butler, Study Guide $10
If you have completed GrowTrack, this is your next step! When you get stuck in a spiritual rut, do you wonder, "How can I get back on track? What should I do next?" Our journeys toward a deeper faith, and finding joy in a close relationship with Christ, last our entire life and have plenty of obstacles and bumps along the way. Hodges's practical guide can help! Revealing four steps to Christian maturity, he shows how knowing God, finding freedom, discovering purpose, and making a difference will lead to a deeper relationship with your heavenly Father.

_____________________

NEW! Body & Soul Fitness
Mezzanine 8 / Karen Snider

Are you looking to strengthen, not only your soul, but your body as well? Are you looking for fellowship with a bit of moving and sweating? This fitness class will merge three fitness segments: Cardio movement, strength training, and core/stretching. This class is designed for all fitness levels, whether you are just starting or need a kickstart. We are here to encourage one and all! (Class holds 20 individuals)
_____________________
NEW! FINANCIAL PEACE UNIVERSITY
Portable 31 / Dustin and Lauren Christophel
Take control of your money with Financial Peace University (FPU)! This nine-lesson course uses biblical wisdom and common sense to help you tackle budgeting, pay off debt, and make your money work for you! FPU includes free online resources. Please stop by and sign up at the table in the lobby!
_____________________
HONORBOUND Men's Class
Family Life Center, Room 116 | Men's Leadership Team

In HONORBOUND, you will find fellowship, new friends, support, and encouragement. You will also find men you can rely on for godly counsel, who have experienced the difficult challenges you may be going through, and a group of men who will pray with you. Opportunities also exist to join other men for many local events and outreaches in the community.

_____________________


Wednesday Support Groups @ 6:30 PM
Anger Management
Mezzanine 4 | Ioni Castillo, Cynthia Foster, Study Guide $25
Everyone gets angry - whether it is directed inward or vented on another. An unhealthy approach to anger is harmful to you and your relationships. This support group will work through understanding the difference and will include regular speakers on sources of anger and paths to healing. This group is suitable for anyone, as it clarifies our personal boundaries and the lies we believe about ourselves and others, while focusing on hope and healing in Christ.

_____________________
DIVORCECARE
Prayer | Jim and Dorene Royal, Registration $20
If you, or someone you know, have gone through separation or divorce, this class can bring hope, give you the tools to move on, and let you know that you are not alone. The class deals with anger, depression, forgiveness, and financial survival, to name a few. Each class stands alone, so one may join at any point. Please sign up at divorcecare.org.
_____________________
SOUL – SURVIVORS OF UNTIMELY LOSS

Mezzanine 6 | Terri Johnson
For a survivor of a suicide loss, the journey through grief is difficult due to feelings of guilt, awkward encounters with those who do not understand the depth of the loss, and dealing with the stigma that surrounds suicide. If you are a survivor of a suicide loss, please join our SOUL Support Group for weekly conversations toward hope and healing with fellow survivors. Together, we can encourage, support, and pray for one another. The door opens at 6 PM for fellowship, followed by group sharing from 6:30 to 7:45 PM.
_____________________
Empowering Healthy Relationships (women only)
Mezzanine 7 | Susan Given, Study Guide $15
Whether you have had complicated relationships in the past or present, learn how to relate to the most important people in your life and respond to them with godly wisdom. Focusing on complex and abusive relationships, this class is designed to bring hope and healing through your walk with Christ. We will use the book, The Verbally Abusive Relationship by Patricia Evans.
_____________________
GRIEFSHARE
GrowTrack | Teresa Swann, Study Guide $20
GriefShare is a special place for people to interact with others who also are grieving the loss of someone close, led by people who know what you feel. Each session includes a video seminar, discussion, and prayer. As each session is a separate topic for healing, you are welcome to start any week. Please sign up at Griefshare.org.
_____________________

FIT-4-LIFE – Natural Health Class
Portable 1 | Flora Price
Fit-4-Life is a class that covers natural health topics to keep people focused on looking, and feeling, better through proper nutrition and a healthy lifestyle.
_____________________
Sundays @ 9:30 AM
NEW! Spiritual Warfare in the End Times
Mezzanine 2 | Bruni Gautier, Study Guide $10
Are you prepared for the spiritual warfare of the final days? You must understand the battle if you are to fight effectively. In this class, you will learn about the spiritual armor God provides, the tactics of the enemy, and the vital roles of the Holy Spirit and the Word of God, which remind you to remain close to Christ.
_____________________
Faithful Followers
Family Life Center, Room 116 | Paul & Karen Wallace
This class alternates between New Testament and Old Testament studies. A discussion format is used, emphasizing relating biblical truths to everyday life. Many class members actively participate in church ministries, outreaches, and mission trips. Also, we have small group meetings in members' homes, which allow for the building and strengthening of relationships. All ages welcome.
_____________________
Walking in the Word
Mezzanine Room 8 | Bobby & Leesha Whitfield
Walking in the Word is an exciting class that appeals to all ages. We use the truth of God's Word to explore relevant topics facing Christians today. Among these are relationship issues, practical application of spiritual truths, and answers to everyday problems. Join us as we grow in the Lord and enjoy great fellowship each Sunday morning. All ages welcome.
_____________________
CLASE BIBLICA EN ESPAÑOL
Sala De Oración | Maestros: Carlos Castillo
La Palabra de Dios es rica en bendiciones, nos guía, redarguye, 0alienta, nos prepara, nos da todas las herramientas necesarias para vivir nuestra vida agradando a Dios. Sin la Biblia andamos a ciegas en la vida actual. Tenemos que vivir una realidad ahora, pero con una perspectiva real…conociendo a Dios a través de la Biblia. Te invitando en familia a estudiar juntos la Sagrada Escrituras.
Sundays @ 10:45 AM
The Word for All Ages - Chapter Mapping – 23 IN 2023
Chapel | Dorene Royal
Ensure your read-through-the Bible success this year by joining us as we pre-meditatively map out 23 chapters each Sunday before you read them the following week. Our study will include cultural and historical backgrounds, VIPs, enlightenment from the original language, themes, and context; as we tour the Old and New Testament, you will understand how His Word can enhance your trip as you navigate 2023! Don't stop at Deuteronomy's roadblock, and bypass Psalms or Matthew, but traverse from Genesis to Revelation without detours! All ages welcome.
_____________________
Pathways
Café | Teaching Team
Faith is far more than a belief system; it infuses all parts of life. Our faith is seen in the way we live our day-to-day lives: what we do, what we talk about, and how we respond to circumstances. God's Word, the Bible, has an answer for every situation we face. Join us each week for exciting topics and subjects, lively discussions, group participation, and a powerful prayer time with great people. Our goal and desire is to help you discover God's direction for your life! All adult ages welcome.
_____________________
Good News
Prayer Room | Esther Haas
We live in a culture where the family God intended initially is under assault from every direction. Churches face dilemmas that we never would have thought of just a few years ago. No family can be strong unless it is based on the truths of Scripture. Come learn how to instill a love for God's Word in the hearts of every family member so you can build a strong family.
_____________________
Life in the Word
Family Life Center, Room 118 | Mike & Charlotte Fiddelke
If you are looking for a Sunday school class that offers Bible study, lively group discussion, in-home socials, and friendship that moves past the superficial, this may be the class for you. If you think Bible study is boring, we invite you to visit us and find out how relevant and exciting God's Word is. All ages welcome.
_____________________
Scriptural Enrichment
Family Life Center, Room 116 | Dr. Michael VanDoren

This class offers in-depth Bible instruction from a former SEU professor, everyday life application, and creative discussion. Our class is friendly, as we believe in supporting, encouraging, and praying for one another. You will be kept updated with newsletters and an e-blast. We will begin the year with Genesis 1 and 2, and then take a deep dive into the book of Romans.
_____________________

GROWTRACK – ONGOING
GrowTrack Room | Teaching Team
GrowTrack is a four-week experience for anyone interested in taking the next step in their journey with God. Whether you want to learn more about God, or get connected in the church through volunteering, GrowTrack will help you discover your God-given purpose and equip you to make a difference in your community and the world! GrowTrack happens every month in four consecutive Sundays. You are invited to jump in any week. For more information, please visit the Information Center or call the Connections Office.

_____________________
Senior Adults
EVERY FRIDAY 9:30-11 AM in the Light of Lights Chapel and Online, Pastor Glenn Procopio, Chaplain Richard & Deborah Cooke
Friday's AdultPlus Chapel is the highlight of the week for many of our senior adults. Our worship is designed just for seniors and features great old hymns and traditional favorites. Plus, there's great Bible preaching, fellowship, special guest concerts, and we have a lot of fun! In addition, our AdultPlus seniors are an active group enjoying regular trips and activities.
For more information, and event photos, go to our AdultPlus Facebook page, facebook.com/groups/victoryadultplus, or our Ministries webpage at victorylakeland.org/adultplus.
_____________________

RIGHTNOW MEDIA
Victory Church is excited to offer FREE access to an extensive video library called RightNow Media! It's like the "Netflix of Video Bible Studies," and has a HUGE library of 20,000+ faith-based videos that you can access whenever and wherever you want – on your phone, iPad, computer, or at home on your TV.
If you want to grow in your faith, RightNow Media has videos for everyone – kids, youth, parents, married couples, college students, single adults, working professionals – all aimed at helping you grow.
Personal Devotions/Discipleship
• "David" by Andy Stanley
• "The Good Gospel" by Jennie Allen
• "You'll Get Through This" by Max Lucado
• "Five Things God Uses to Grow Your Faith" by Andy Stanley
Kids Videos
• Bibleman
• The Mr. Phil Show • Superbook
Marriage
• "Your Time-Starved Marriage" by Les and Leslie Parrott
• "The Art of Marriage" by Family Life
To register, visit victorylakeland.org/rightnowmedia or text "VCL" to 49775.